1.90 KG/M 1.65 M Long Q 235 Rail Steel Y Type Star Picket Fence Post for Farm Fence
The t post high is 0.45 M,0.6 M,0.9 M,1.35 ,1.5 M,1.65 M,1.8 M,2.1 M,2.4 M.Besides,we can produce different weight T fence post for our valued customers,like 1.58 KG/M,1.86 KG/M,1.90 KG/M and 2.04 KG/M.
Detail Description
Y fence post also called Y picket or star picket post, is made of low carbon steel. It features the three-pointed star shaped cross section, plain head and tapered end. And there are two types: Y post with teeth and Y post without teeth. Silver and black are the common colors. With high strength, perfect stability and easy installation, it's widely installed with various farm fences for farm and livestock fencing.
Material: low carbon steel.
Surface treatment: galvanized, PVC coated, black bitumen coated, baked enamel painted.
Common color: silver, black, other colors are available.
Shape: three-pointed star shaped cross section.
Length: 0.45 m, 0.6 m, 0.9 m, 1.35 m, 1.5 m, 1.65 m, 1.8 m,2.1 m, 2.4 m.
Feature
High strength and stability without bending.

Withstand the high wind forced.

Corrosion and rust resistant.

Prevent the damage of termites.

Easy to install and maintain.

Durable and long service life

Thickness: 2–6 mm depends on your requirements.

Package: 10 pieces/bundle, 50 bundles/pallet.

Type: Y post with teeth, Y post without teeth.
Knowledge
Table 1
| | | | | | | | | | |
| --- | --- | --- | --- | --- | --- | --- | --- | --- | --- |
| | 0.45M (PCS/MT) | 0.60M (PCS/MT) | 0.90M (PCS/MT) | 1.35M (PCS/MT) | 1.50M (PCS/MT) | 1.65M (PCS/MT) | 1.80M (PCS/MT) | 2.10M (PCS/MT) | 2.40M (PCS/MT) |
| 1.58KG/M | 1406 | 1054 | 703 | 468 | 421 | 386 | 351 | 301 | 263 |
| 1.86KG/M | 1195 | 896 | 597 | 398 | 358 | 326 | 299 | 256 | 224 |
| 1.90KG/M | 1170 | 877 | 585 | 390 | 351 | 319 | 292 | 251 | 219 |
| 2.04KG/M | 1089 | 817 | 545 | 363 | 326 | 297 | 278 | 233 | 204 |
Table 2
| | | | | | | | | | |
| --- | --- | --- | --- | --- | --- | --- | --- | --- | --- |
| Hole Number | 0.45M (PCS/MT) | 0.60M (PCS/MT) | 0.90M (PCS/MT) | 1.35M (PCS/MT) | 1.50M (PCS/MT) | 1.65M (PCS/MT) | 1.80M (PCS/MT) | 2.10M (PCS/MT) | 2.40M (PCS/MT) |
| Australia Y post holes | 2 | 3 | 5 | 11 | 14 | 14 | 14 | 7 | 7 |
| New Zealand Y post holes | 2 | 3 | 5 | 7 | 7 | 7 | 8 | 8 | 10 |
Packaging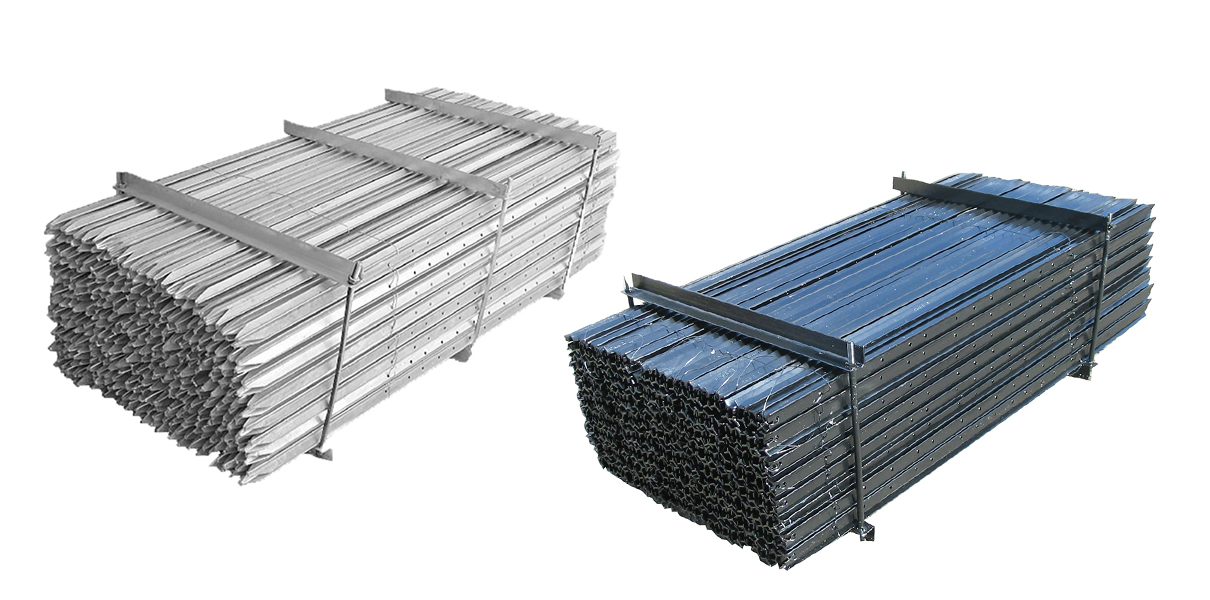 Application