Perforated Metal Mesh
YHY offers perforated metal in different patterns materials and thicknessMaterial :Stainless Steel ,Plain Steel ,Galvanized Steel,Aluminum, Brass (Copper)
Detail description
YHY offers perforated metal in different patterns materials and thicknessMaterial :Stainless Steel ,Plain Steel ,Galvanized Steel,Aluminum, Brass (Copper) ,Phosphor or BronzeFeatures: also named Punched Mesh, It can be supplied in folded or flat panels. From various metal plates, punched openings can be round, square, triangle, diamond, hexagonal, cross, etc.

Applications: The opening size, density and forms of distribution can bring different functions in separation, sifting, filtration, drying, cooling, cleaning, etc
Knowledge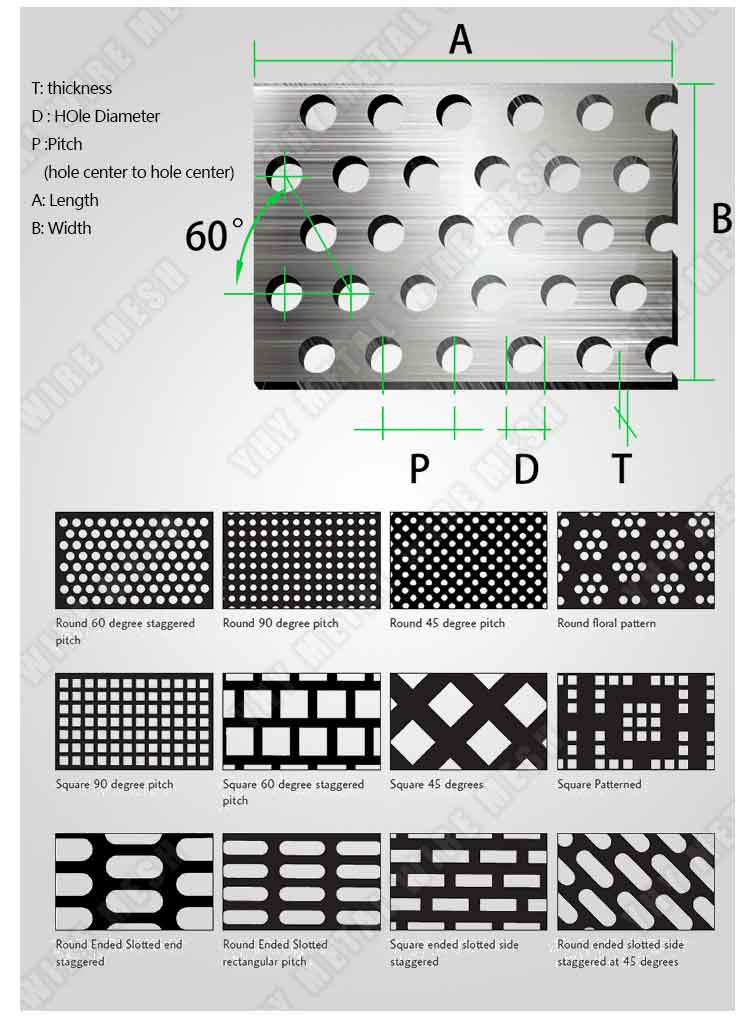 Packaging
Packing: wrapped with plastic paper, then in cartons or Pallet.
ROUND HOLES STAGGERED PATTERN
HOLE
CENTERS
GAUGE / PLATETHICK.
OPEN AREA
.020" RD
.045" Stag
26
18%
1/32" RD
1/16" Stag
22
23%
3/64" RD
5/64" Stag
24
33%
3/64" RD
3/32" Stag
22 thru 18
23%
1/16" RD
3/32"Stag
22 thru 16
40%
1/16" RD
7/64" Stag
20 thru 16
30%
1/16" RD
1/8" Stag
26 thru 16
23%
5/64" RD
1/8" Stag
22 thru 14
35%
3/32" RD
5/32" Stag
24 thru 14
33%
3/32" RD
3/16" Stag
24
23%
.117 RD
5/32" Stag
18
51%
1/8" RD
3/16" Stag
24 thru 11
40%
1/8" RD
7/32" Stag
14 thru 12
30%
1/8" RD
1/4" Stag
14, 13
23%
9/64" RD
3/16" Stag
18
51%
5/32" RD
3/16" Stag
22 thru 16
63%
5/32" RD
1/4" Stag
20 thru 10
35%
3/16" RD
7/32" Stag
22 thru 16
67%
3/16" RD
1/4" Stag
24 thru 12
51%
3/16" RD
5/16" Stag
10, 3/16"
33%
3/16" RD
3/8" Stag
14 thru 10
23%
1/4" RD
5/16" Stag
20 thru 16
58%
1/4" RD
3/8" Stag
26 thru 1/4"
40%
17/64" RD
5/16" Stag
20
66%
5/16"RD
7/16" Stag
20 thru 1/4"
46%
3/8" RD
9/16" Stag
20 thru 1/4"
40%
1/2" RD
11/16" Stag
20 thru 1/4"
48%
1/2" RD
3/4" Stag
16
40%
5/8" RD
7/8" Stag
10 thru 1/4"
46%
3/4" RD
1" Stag
16 thru 1/4"
51%
1" RD
1-3/8" Stag
10 thru 1/4"
48%
1-1/4" RD
1-5/8" Stag
1/4"
54%
1-1/2" RD
2" Stag
1/4"
51%
2" RD
2-1/2" Stag
1/4"
58%
2-1/2" RD
3" Stag
3/16"
63%
3" RD
3-1/2" Stag
3/16"
67%
4" RD
4-1/2" Stag
10
72%